Welcome to Refilmery's Refilmery Series – an intimate screening of original works hosted by Refilmery, Inc.
Each month we celebrate the work of filmmakers with complimentary beer and popcorn in our exclusive 24-seat theatre, including a Q&A and time to socialize.
Details for this month:
REFILMERY SERIES #6
6:30pm sharp, Wednesday 8th April 2015
69 Charlton St, New York, NY 10014
[pt_button url="https://www.eventbrite.com/e/refilmery-filmmaker-series-6-tickets-16321351602″ color="orange" liquid="yes" target="new"]RSVP now![/pt_button]
 CRUISING
Synopsis: Based on a true story, CRUISING follows a young man through an extrovert's dream and an introvert's nightmare; the chaotic and cacophonous world of forced-fun aboard an insular cruise ship. His initial inability to accept his environment drives him to suicidal fantasy, where he learns to cope with his stressors, discomfort and anxieties.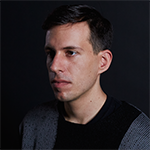 About The Director: Zachary Zezima is a director and animator based in LA and originally from New York. He is also one third of Circle Line Projects, which produces animated music videos and other multimedia content. He is currently pursuing an MFA in Experimental Animation at the California Institute of the Arts. 
SIERRA LEONE
Synopsis: A man battles through a treacherous desert to reach his home; a vibrant, dreamlike interpretation of the forests of Sierra Leone. Inspired by the work of New Zealand animator Len Lye, as well as the original 1983 music video for "Sierra Leone" by Coconut Rough, the man struggles with the desert elements and ultimately himself before reaching his final destination.
FALLING APART
Synopsis: A woman is floating in an idyllic and calm pool of water but is quickly overcome by her inner struggles. She slowly sinks into a colorful yet ominous underwater world, and as she becomes overwhelmed by her past mistakes, begins to fall apart.
About The Director: Circle Line Projects is a collective of multi-disciplinary artists, animators and directors based in Brooklyn, NY and Los Angeles, CA. The collective was founded by award-winning artists Ana Mouyis, Zachary Zezima, and Tim Brown. Zack and Ana met aboard a Circle Line Sightseeing Cruise in New York City in 2005. They discovered a shared love of animation and began collaborating under the Circle Line Projects moniker. In 2013, they met Tim on the set of a 24-hour music video, and after working on several projects together as a trio, Circle Line Projects evolved into a full-scale production company.
GRACE
Synopsis – Grace is an impressionable 14-year old. While on a camping trip with her best friend Tom and his parents, Grace becomes fixated on a surfer a few years older. She disobeys Tom's parents and ditches Tom to attend a beach party where she soon gets in over her head.
Director Bio – Australian born Filmmaker/Photographer originally from the Northern Beaches of Sydney, Emma Leslie graduated from The Australian Film Television & Radio School (AFTRS) in 2010 where she completed a Graduate Diploma in Production Design for Film and TV. Moving to Los Angeles just 3 months later, Emma found herself Writing and Directing her first short film, studying Photography at Santa Monica College and working for American Idol. After spending 3 amazing years in the USA, Emma relocated back to her home town of Sydney in 2014 to start her own business, Emma Leslie Photography. Emma recently jumped back into the Directors
chair as she came together with a great team to produce a Tourism Commercial for the area of Mt Wilson, NSW. "Turning my hobbies into my profession has changed my life"